REGISTRATION WILL TAKE PLACE: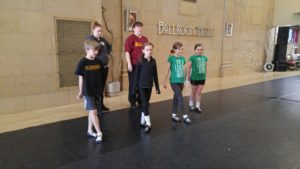 THURSDAY SEPTEMBER 1st 6:30 – 7:30
@ the Irish Club (654 Erin Street)

Classes are available for all ages from September until May and times are as follows:
Beginner Classes – Saturdays 9:00 – 10:00 a.m.
Intermediate & Novice Ceili – Saturdays 10:00 – 11:00 a.m.
Intermediate – Advance Beginner Solo & Novice Softshoe – Saturdays 11:00 a.m. – 12:30 p.m.
Novice Hardshoe & PW through Championship Solo – Thursdays 6:30 – 8:30 p.m.
Adult Class – Thursdays 8:30 – 9:30 p.m.
Senior Practice and Show Rehearsal – Sundays – 1:00 – 3:00 p.m.
Costumes
Every dancer is required to rent  a class costume after their first year as a student. Dancers competing at higher levels may also choose to purchase their own solo costume.
Footwear
All dancers are required to wear appropriate footwear in class and at performances and competitions. Both soft shoes and hard shoes can be ordered by mail or through the school. Hard shoes are often sold second hand within the school and shoes are available at most competitions.
*All classes are taught at the Ted Motyka Dance Studio, 460 Main Street – purple door at the back off the parking lot.